CUISINES & WINES
Indians are known world-over for the zeal and élan they associate with their food. With a history of immigrations and invasions Indian food cultures had been enriched continuously by the influence of Mughal, Persian, Chinese, Mongolian, Turkish, British, Portuguese, etc. Thus in a land with hundreds of distinctive cuisines and literally thousands of recipes we were not going to take dining lightly. Let our connoisseurs and chefs prepare for you the most elaborate and wickedly delicious meals ever and we promise you no excuses for gluttony.
La Brasserie
Overlooking the pool is La Brasserie, the 24-hour multi-cuisine restaurant that boasts of à-la-carte' as well as the most largestt phenomenal buffet spreads for breakfast, lunch and dinner in the whole of Bangalore.(155 covers, 62 dishes) Under its distinct gazebo La Brasserie offers authentic Indian, Continental, Oriental, Japanese and a variety of world cuisine. Unique and delightful food festivals are showcased regularly at the restaurant.
La Boulangerie
The pastry shop offers a delicious range of pastries, sweets, cookies, chocolates and savories. Situated at the La Brasserie at the lobby level it open daily at 8 a.m. until 9 p.m. Good place to pick up bakery & confectionery products for all occasions.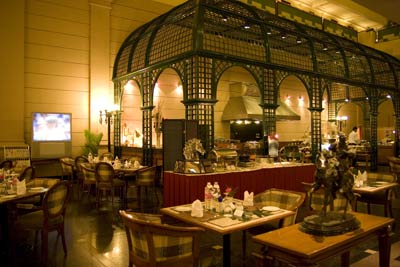 JASHN-DAAWAT BY THE POOLSIDE
JASHN - Is an outdoor Indian barbeque specialty restaurant situated by the exotic poolside serving authentic North-West Frontier cuisine. The restaurant has an attached Show Kitchen where you can watch the Master Chef in action. The restaurant is open for dinner only from 7:00 p.m. to 11:30 p.m. The restaurant also has an attached Bar with a wide selection of wines and alcoholic beverages.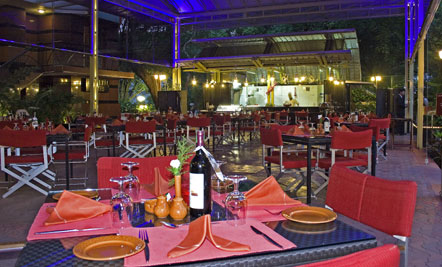 SPORTS BAR AND LOUNGE
Le Méridien Bangalore has opened its Five-Star Sports Bar and Lounge, called the Sports Bar and Lounge. Located at the lobby level, the Sports Bar and Lounge has a contemporary look and feel to it replete with a show kitchen. Adorned with nine televisions and a giant screen with surround sound, guests can catch the sporting action around the world. The restrooms too have TV screens so that you don't miss even a second of the action.

The new Sports and Lounge bar has an endless list of bar offerings that include single malts, liqueurs, cocktails and wines. The chefs dish out Indian and Continental offerings with specialities like Grilled Basa Fish Chunks with Chilli Flakes, Grilled Zucchini, Peppers and Mushrooms with Garlic Pearl and Tomato, Smoked Salmon, and Capers and Dill on Bagel. The chefs highly recommend the signature dessert of the lounge - Red Wine Poached Pears.